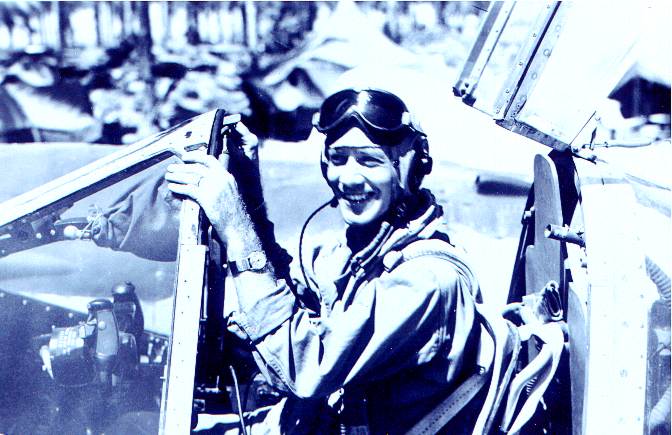 Ray in his P-38 "Jane"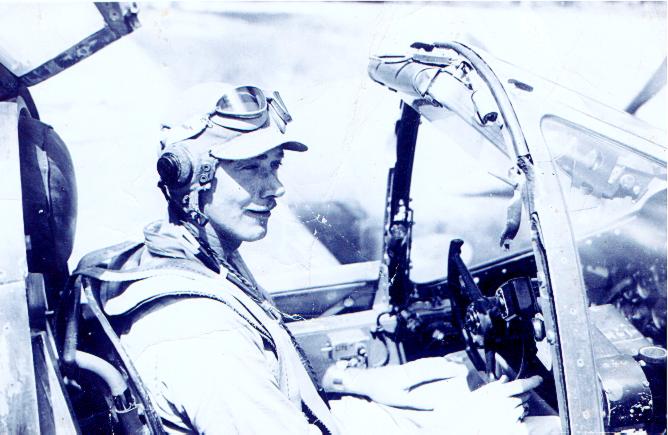 Another view of Ray in the P-38 "Jane"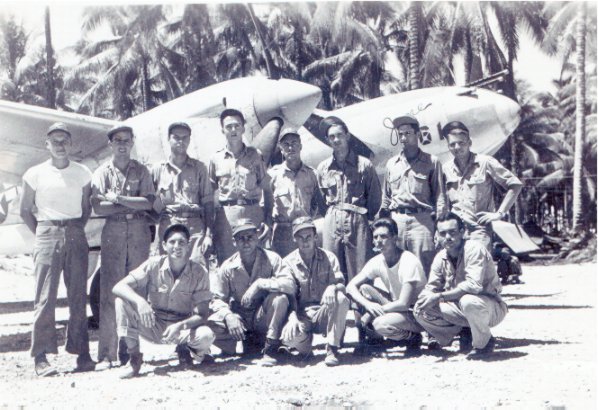 Part of the 67th fighter squadron in front of Ray's P-38 "Jane" (left to right standing) George King, Bud Garrett, Donald Terhune, Robert Salling, George Gray, Craig Fairburn, Arthur Powell, Robert Ingstad (KIA)
(kneeling) Wilfred T. Rodems, Al Penza, Wallace Jewel, Fred Gleason, Robert Gardner.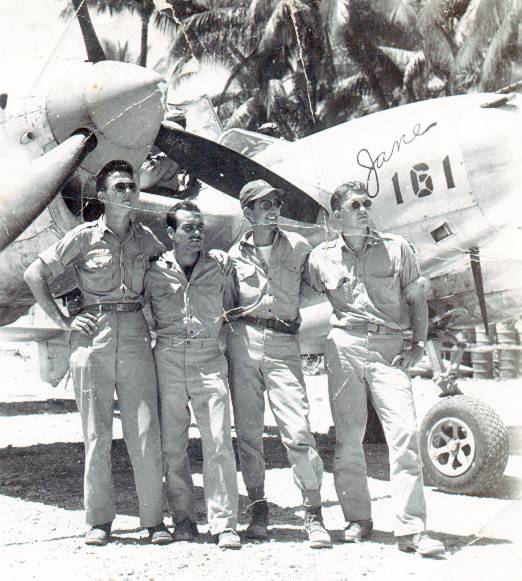 Still another of the guys in front of "Jane" (l to r) Bob Salling, Bob Gardner, Malcome Smith, Bret Swartz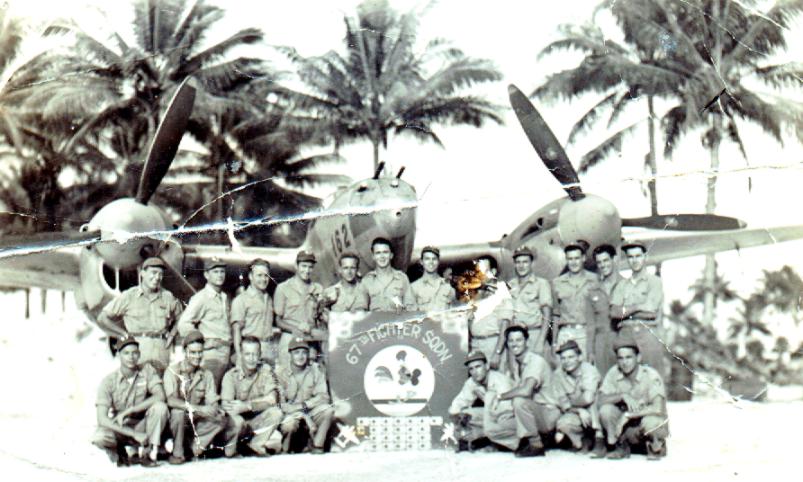 The 67th Fighter Squadron (what could those little flags stand for?) (L-R standing) Wilburn Rose, Fred Gleason, Arnold Saltsgaver, Don Lee, George King, Bob Salling, Donald Terhune, Bob Gardner, Bud Newton, Ault, George Dubis, unknown (kneeling) Raymond Sofaly, Richard Holcombe, Raymond Johnson, William Schnell, Al Penza, Wilfredt Rodems, Robert Ingstad, Joe LeDeoux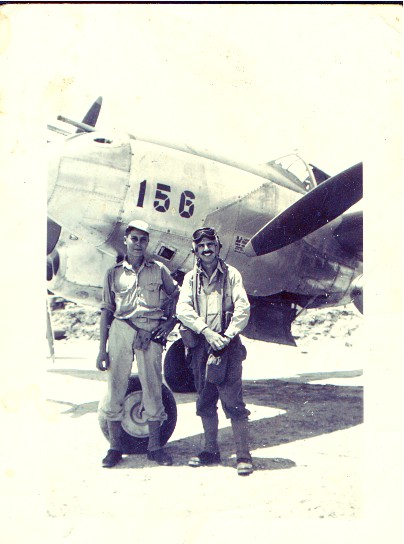 John Holman and George Dubis
These pics were sent to me by George T. Dubis' son, David Lumpkin. George stayed in the military after WWII and was killed in a freak plane accident in Korea in 1955. I think David got the pics from Jack Cook.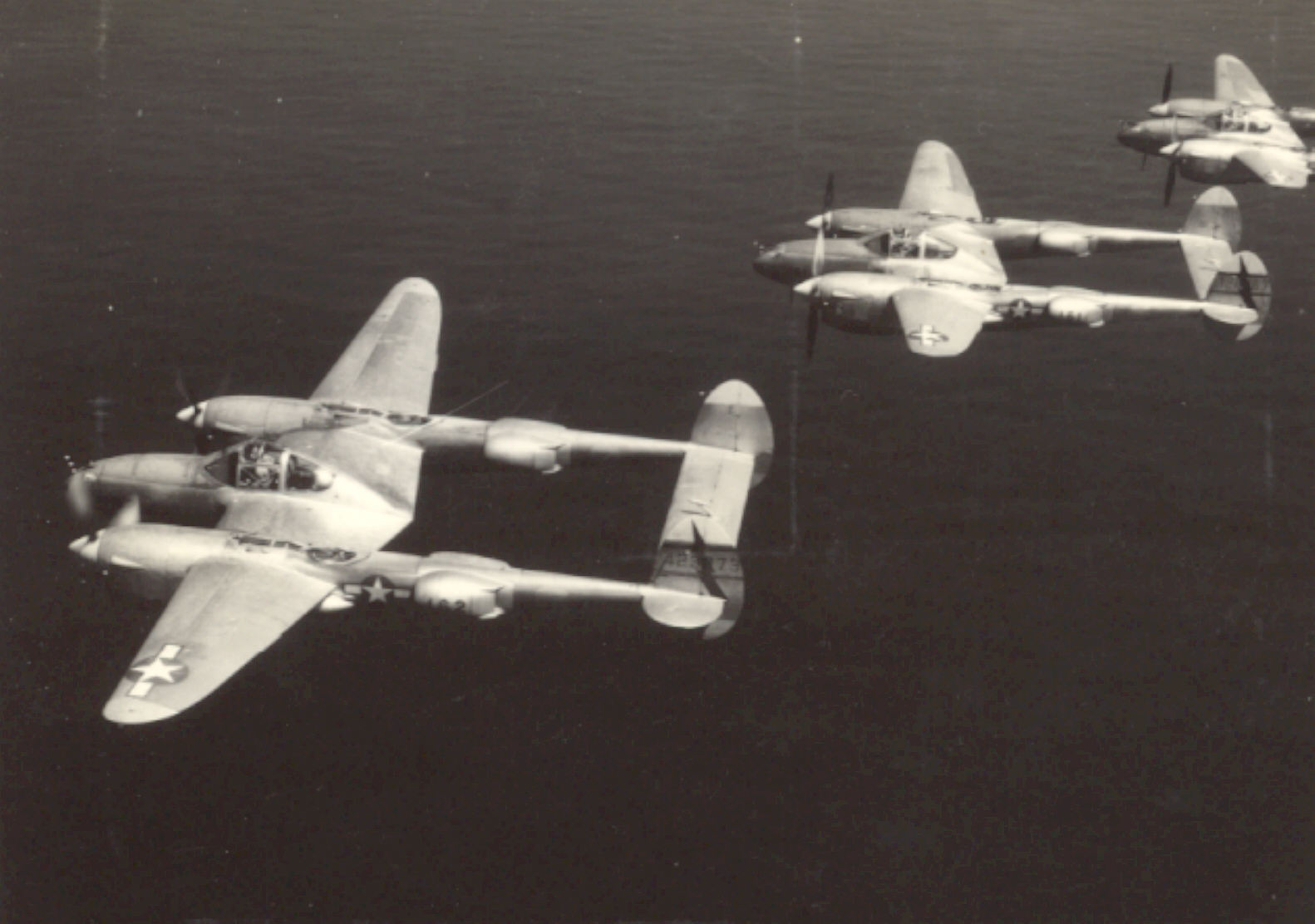 Here's the pic I love...Don Lee leads the 67th Fighter Squadron. The second plane, number 161 is Ray in "Jane". The third plane is George Dubis.
Captain George Dubis, 67th Fighter Squadron, 1944. George is on record for shooting down a Ki-44 "Tojo" over Indochina and was one of Ray's close buddies.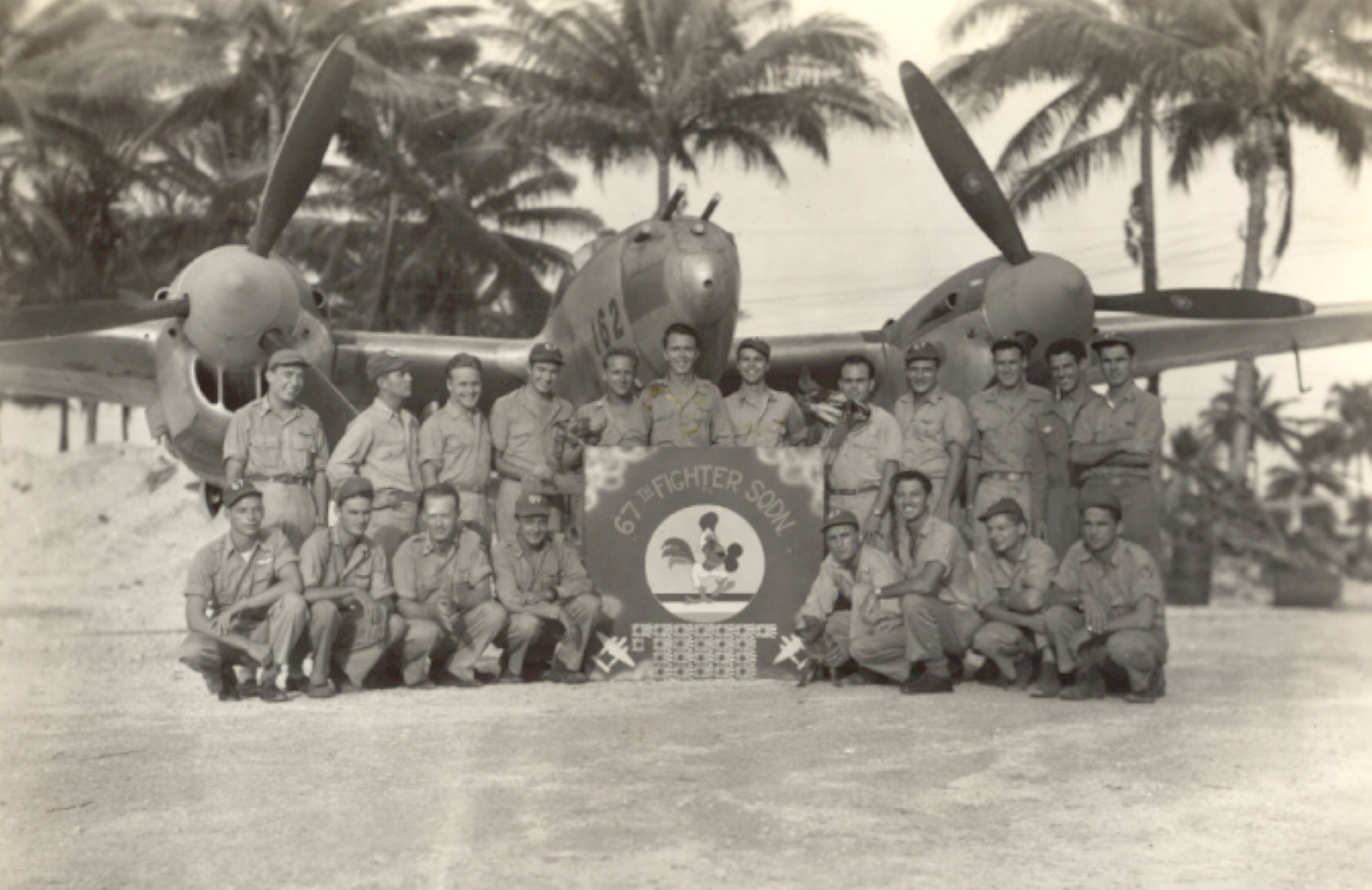 Another pic of the 67th Fighter Squadron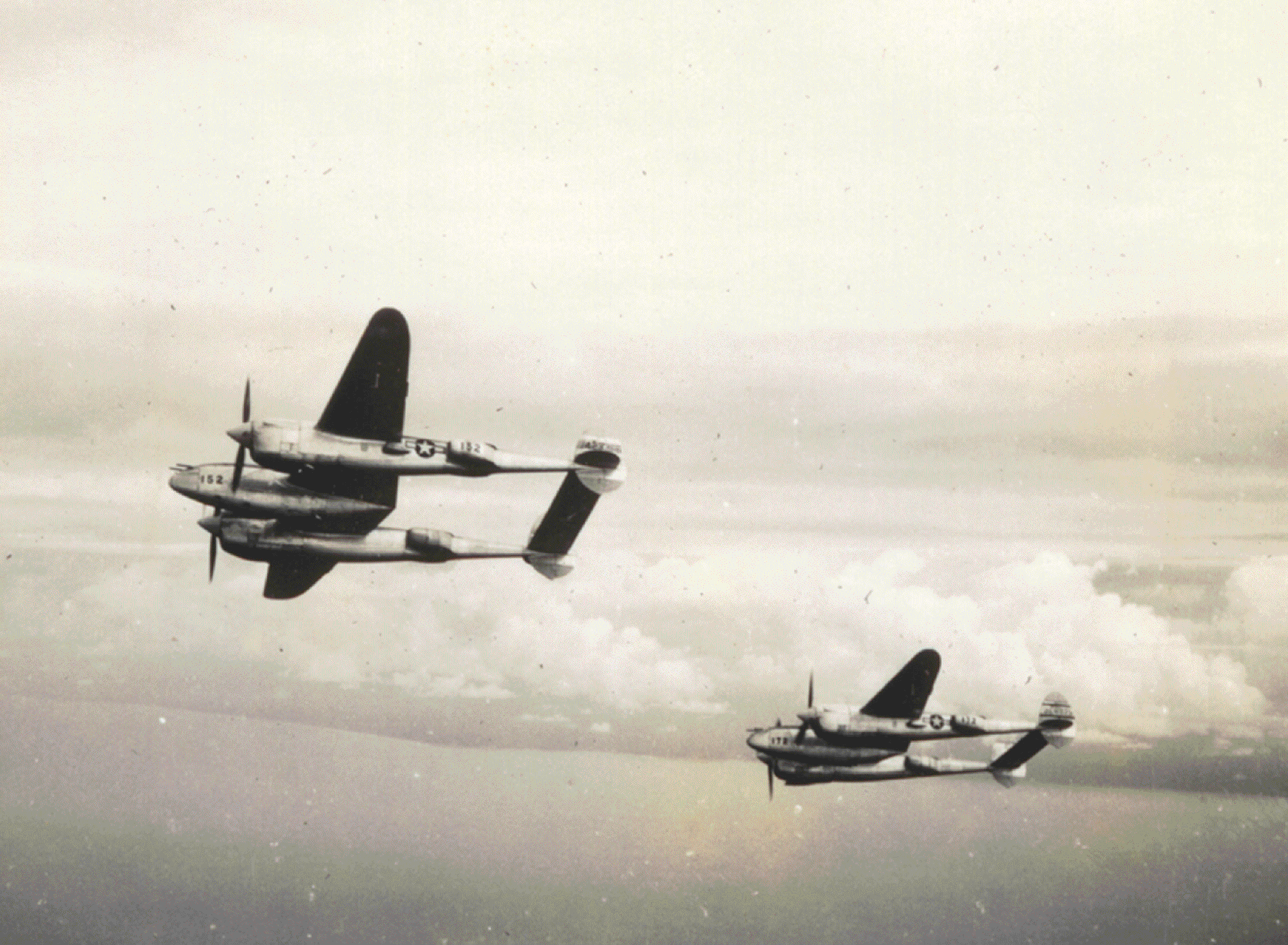 Another pic of 67th pilots in their P-38's. No.s 152 and 172.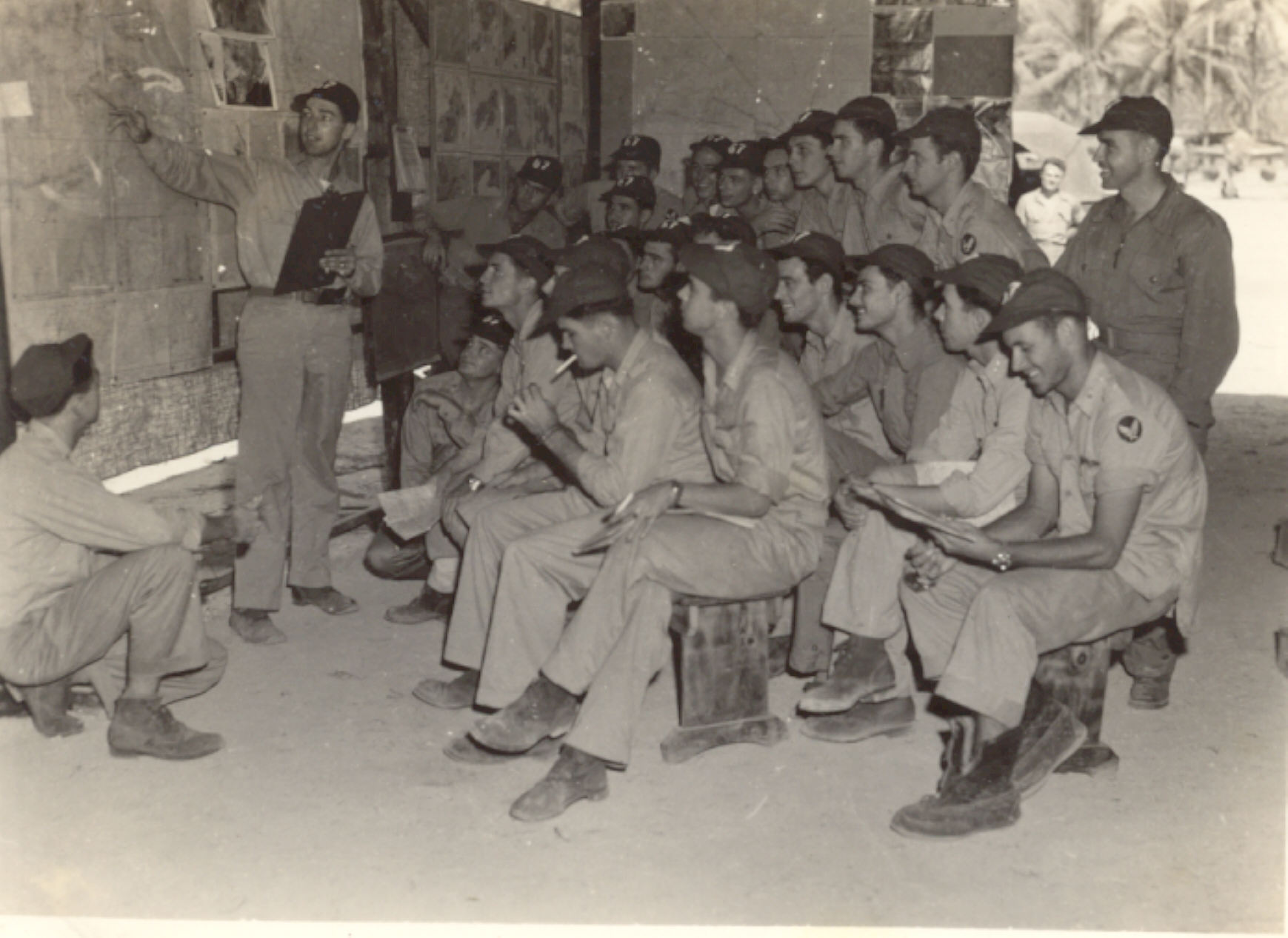 A briefing of the 67th Fighter Squadron
Bell P-39 Aircobra photos below (click on the thumbnail for larger). Ray and all the other pilots really disliked this plane. It was designed to be supercharged but the Army decided (incorrectly) that it didn't need it. The engine was behind the pilot, was noisy, vibrated, and smoked. The driveshaft was between the pilot's feet. When the 67th switched to the P-38 the pilots were delighted.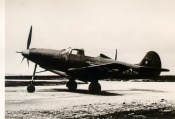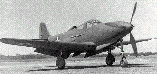 Here are pictures of Bill Bean sent by his brother John (Jack). Bill was with the 68th Fighter Squadron and probably was stationed on same bases as Ray.